Edward D Walker Marine Artist (1937 - 2017)
Edward D. (Ted) Walker is a world-renowned, professional marine artist who is equally at home painting deep-sea sailing vessels, the majestic Cunard's, RMS Titanic, and countless other ships of all types and eras.
His distinguished career spans more than fifty years and includes famous UK and US historic ships of the civil war era, Irish famine relief, plus, fishing and whaling ships.
Ted Walker's commissions can be found in public, private and royal collections. He is the official artist for the RMS Titanic Artefacts Exhibitions, currently touring Europe and North America, who utilise Ted's Titanic Maiden Voyage painting as their iconic image. The Cunard fleet of luxury liners including Queen Victoria, Queen Mary 2 and Queen Elizabeth, all prominently display Ted's paintings. The UK Royal Mail is yet another of Ted's prestigious clients.
Ted takes great pride in being classed as a maritime expert noted for his authenticity and attention to detail in regard to each commission he undertakes. Walker's paintings are acknowledged, by both naval and maritime experts, as importantly significant historical documents, as well as, outstanding works of art.

A selected number of original oils are available for purchase by email enquiry. Fine art and limited edition signed prints are available on our website. Sumar Publications, formed by Ted and Susan Walker to distribute prints at a reasonable cost, utilizes UK and US printing companies. Limited license agreements are also available to utilize Ted's marine art on souvenir items for maritime gift shops, restaurants, pubs and special events.

Royal Mail Stamps
Ted was commissioned by the UK Royal Mail for two, new UK stamps released in 2013: Britannia 1840 and Lord Hinton 1986. In 2004, Ted'sQueen Mary 2 was issued by the Royal Mail. These Royal Mail stamp commissions are shown and described below, but are not available as fine art prints. First class stamps, first-day covers and educational packs are available from the UK Royal Mail.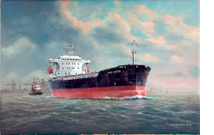 Lord Hinton - 1986

Lord Hinton was a large UK bulk coal carrier supplying fuel to the last coal-fired power station at Kingsnorth on the River Medway.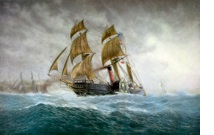 Britannia - 1840

RMS Britannia 1840 left Liverpool carrying the all important Royal Mail, on her maiden voyage 4th of July 1840 to Halifax, Nova Scotia, and then onto Boston USA.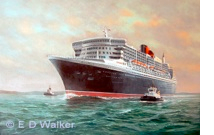 Queen Mary 2 - 1st Class Stamp

Arriving at Southampton for her naming ceremony in 2003, `Queen Mary 2` then made her maiden voyage to the USA on January 12th 2004. At this time she was the largest passenger liner ever built. A Royal Mail First Class postage stamp was issued at the time to commemorate the occasion.
You are viewing our US Website. To visit our UK Website Click here